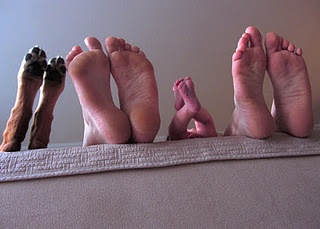 The wagging tail that greets you at the door; A best friend curled up at your feet by the fireplace; The loving rub against your leg as you are making your coffee.  For many people, pets are what make a home feel like home.
So many times when I am designing for clients, they ask me to take their pets into consideration.  We all want our houses to be beautiful, but they need to be durable enough to withstand the daily wear and tear of real life.
Here are some of my go- to tips for creating a pet friendly home:
(Whether you explore one or all- you will see a difference)
–Durable Paint– Specify eggshell walls and semi gloss trim the next time you paint.   It will make cleaning up the mess from all of the "rubs and shakes" much easier.  Water and dirt are much more likely to stain a matte wall than one with a more durable finish such as eggshell, satin or semigloss.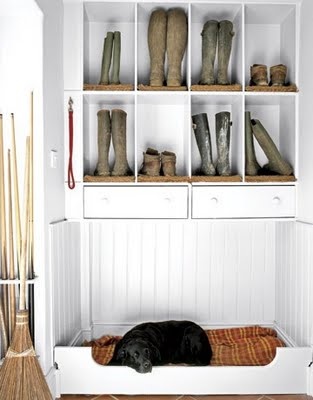 –Resilient Fabrics– Choose fabrics that have tighter weaves and are easily washable.  In more casual spaces, I often suggest slipcovers. I am not talking about the sloppy sofa you had in college- upholstery lines have really improved the look of slipcovers.  These days, you often can't tell the difference between a slipcovered sofa and a skirted upholstered one.  A versatile upholstery option, slipcovers can be easily washed or switched out 10 years down the road when they get too worn.  They can save money in the long run!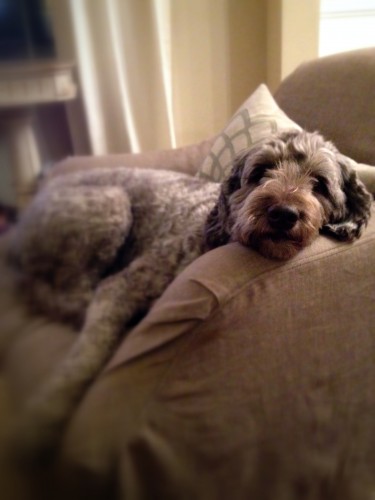 –Washable Coverlets– when I am away at work, my labradoodle often likes to sneak up to my bedroom for a mid- day nap.  I know this because my bed sometimes doesn't look as smooth as it did when I made it that morning.  The indention from where she curled up at the end of the bed is evidence!   Good thing I have a washable coverlet to keep my bed looking clean and new.
–Old Wood Floors– If the style of the house allows, nothing hides dirt and scratch marks more than an old wood floor. Not only are they beautiful, the give off a very natural and relaxed look. Often times, reclaimed wood comes from old barns…if cows can stomp on it, why can't your pets?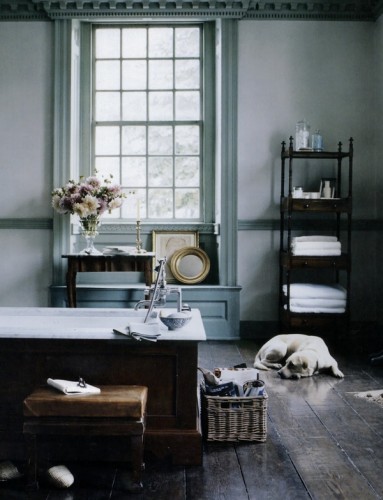 –Comfortable/custom dog beds– there are a whole host of fabrics that allow you can customize your dog bed to fit the look of the room.  I recently had my upholsterer make a new cover for an old LL Bean bed that needed a little TLC.   This will certainly make your pet feel like the king or queen that they are! People always comment on coordinating dog beds.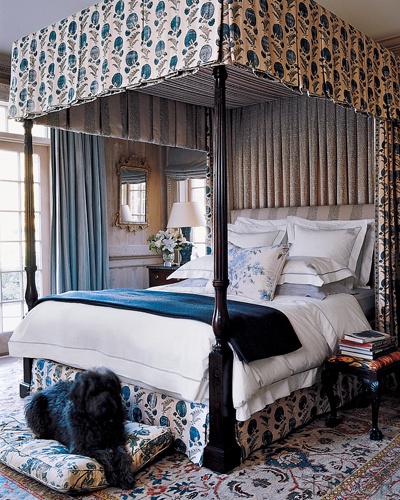 -Fiber Protection– Protect your upholstery investments with Fiber Shield. Many people don't realize that for around $150 or less, you can treat your fabrics with a stain guard that has a warranty for up to 10 years.  Without changing the look or feel of the upholstery, you can protect against spills and stains.  I do this for clients all the time.  They all agree that it is totally worth it!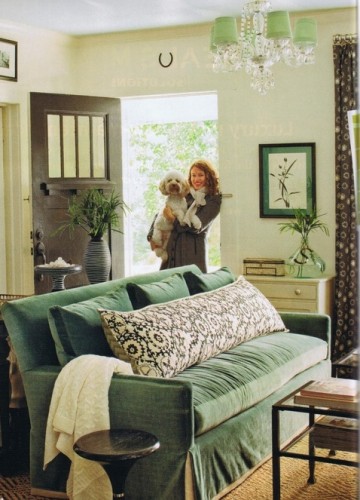 See? You can live comfortably with pets…AND look fabulous while doing it!