I recently traveled to the gorgeous, lush island of Bali located in Indonesia.   It is on the other side of the world- so I knew it would be different; however, nothing could prepare me for the spiritual and artistic richness that is intricately woven in the natives' everyday life.  For anyone who loves the arts, Bali is the place for you.  The island truly takes on a life of its own, and creativity is found everywhere- even in the most unexpected places.  A simple home to them is an interesting study of eastern architecture to us.  A daily handmade offering of flowers may be a ritual to them, but signifies an intrinsic part of their beautiful culture to us.  Even the curvaceous rice terraces, the fruits of their land, have a picturesque quality that should be on the cover of a magazine.
Everywhere I looked, beautiful things were being created.   I visited craft villages that specialized in textile, furniture and jewelry design.  It was so inspiring to see things made in such an honest, open and simplistic form.  Bali is specifically known for its batik fabrics.  These fabrics are hand woven and dyed creating beautiful patterns and forms. Most fabrics these days are machine woven, so I loved seeing the rare art of hand weaving in its true form.  I was in heaven! Bali is also known for its teak furniture.  I passed down roads full of people making beautiful furniture of exceptional quality with great prices. Don't worry- I kept a running list of new vendors to offer my clients.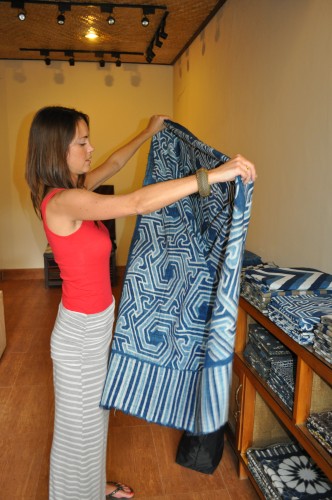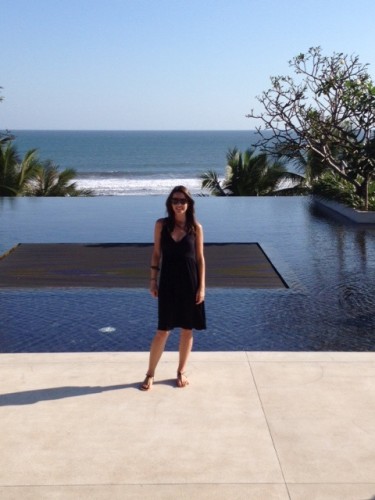 I believe it is important for designers to stay inspired.  I continually read design magazines and books, but nothing drives my creativity quite like traveling.  As I moved from the mountains to the shore on Bali, color palettes seemed jumped out at me from the natural landscape.  From the moss growing on an old stone building, to a unique hotel design, to an old wood carver arduously working on his next great "piece", I found inspiration everywhere.