It seems like our nation has had baby fever.  With the interest in the arrival of the Prince of Cambridge and all of the recent celebrity pregnancies, you can't turn on the news or open a magazine without breaking coverage on all things "baby".
That is certainly the case for me in particular.  Last July, I welcomed a precious baby boy into this world.  I couldn't be more overjoyed and excited to be a new mom. Leading up to the birth of my son, I have spent a lot of time nesting and working on the nursery. When designing a nursery, it is important to incorporate elements that  ease things for mom and soothe baby.  Trust me-you will appreciate the little things during those late night feedings!
Here are 5 nursery essentials that you don't want to miss:
1. Swivel Glider– a comfortable chair to rock your sweet baby to sleep is a must have.   All of the hours that you will log in will be worth the investment! So many companies have beautiful style and fabric options.
2. Changing Station- When changing diapers- you will want everything at your fingertips.  Create a changing station that will make all of the essentials readily available.  In my own nursery, I converted a closet into a changing station. See the slideshow pictures for inspiration!
3. Storage- With a baby comes a lot of "stuff".  Make sure to have lots of storage options so that everything can have its place.  In my own nursery, I built shelving with storage baskets to help compartmentalize items and keep things organized.  A good chest is also good to have to help store all overflow items.
4. Crib – The focal point of the nursery, crib selection is important.  Whether you go traditional or modern, select a style that will pull your whole design scheme together.
5. Versatile Lighting– You want your nursery to transition seamlessly from day to night.  For night time, put ceiling light fixtures on dimmers to create a softer atmosphere.  You can also incorporate a table lamp to emit a warm glow.  When your child is napping during the day, you may want to invest in some blackout lined curtain panels.  This room darkening element will make it easier for your little one to doze off to sleep.  Who wouldn't want that?
Here are some pictures of my nursery: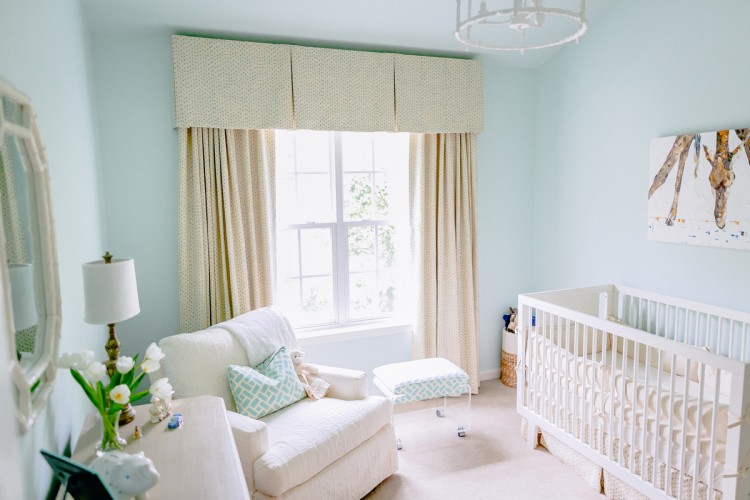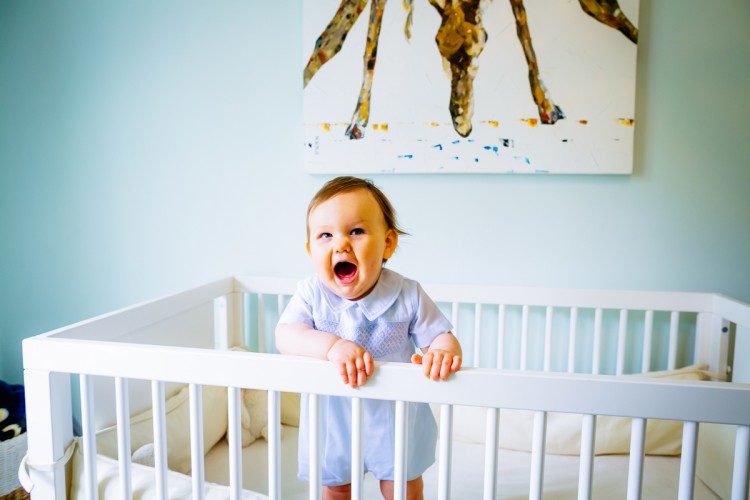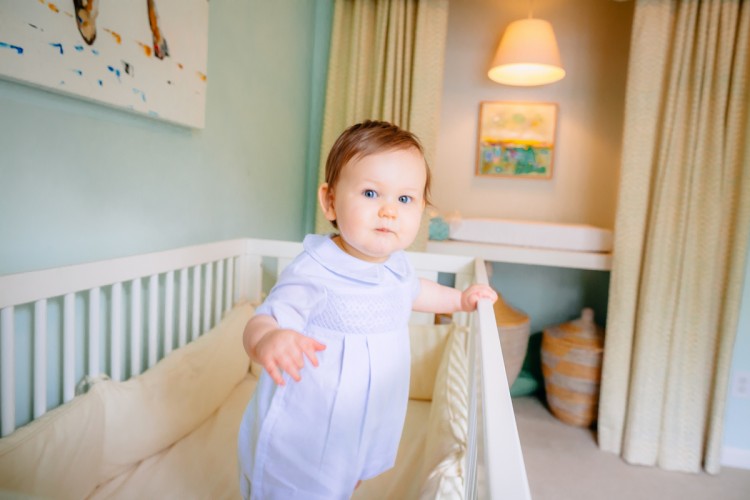 He is mighty cute, isn't he?